A bespoke pair of glasses is a made to measure and unique spectacles, that truly meet your face, needs and wishes. A tailor-made object is not only an object, it is an experience and a dialogue between you and the craftsman. This discussion will give birth to an unparalleled object. Each bespoke model is designed, sketched, worked and fitted by hand. Our tailor-made eyewear atelier let us to accurately highlight each person's personality.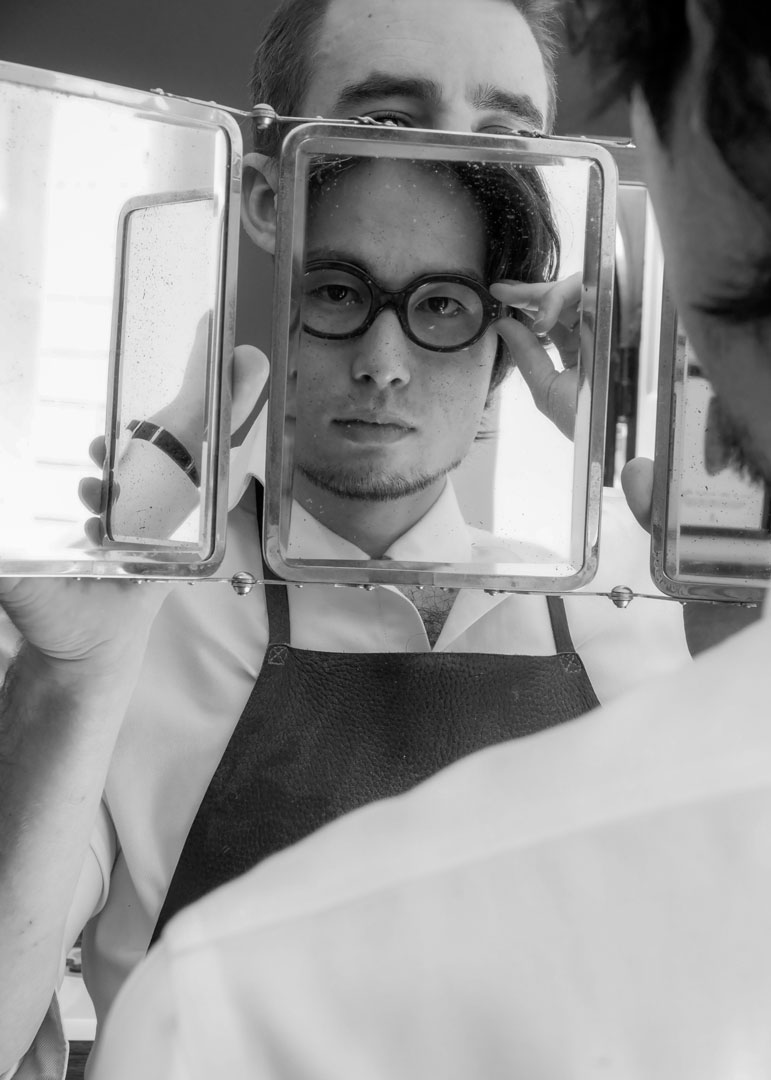 THE FIRST MEETING
The first meeting is an in-depth discussion between you and the craftsman. Based on your project and your desires, your features and your style, we together define the shape that best emphasizes your face and affirms your personality. Then comes the choice of the material and its in accordance with your face, to find the right nuance. Several fittings are needed to define the shape, color and material.
THE MEASUREMENT
At the end of the first meeting comes the measurement takings which is a fundamental step which will make your glasses perfectly fitted to your face and eyesight. Optical measurements are needed as well as facial measurements (nose angle, temporal distance, pupillary distance, eyebrow height, branch length, etc.). We carry out a dozen measurements that will allow us to create your glasses with perfectly efficient lenses. After taking the vision measurements, the lenses are made by the best specialists. For many ametropia, tailor-made glasses optimize vision by reducing the thickness of the lenses in particular and allow the most precise and reliable centering possible. The choice of frame in our workshop is never dissociated from that of lenses, thus offering our wearers unparalleled comfort.
FITTING AND ADJUSTING
The fitting takes place a few weeks after the first meeting (between 3 and 5 weeks), after several hours of manufacturing devoted to your glasses. The number of tries will vary depending on the complexity of the frame manufacturing. During this special moment between you and the craftsman, we make the final adjustments and finishing touches that adjust the frame to your face. An essential step to perfect comfort that will provide you the best possible quality of vision.
MAINTENANCE
The natural materials we work with are durable over time and should be look after themselves. Repolishing makes it possible to revive the color and shine altered over time. We therefore invite you to entrust us with the maintenance of your glasses regularly and we will provide free polishing of your pair of glasses within 6 months of its creation.
"Buying custom-made glasses means rediscovering the pleasure of patiently waiting for a bespoke object, entirely created for you."